2024 New Orleans Parade Tickets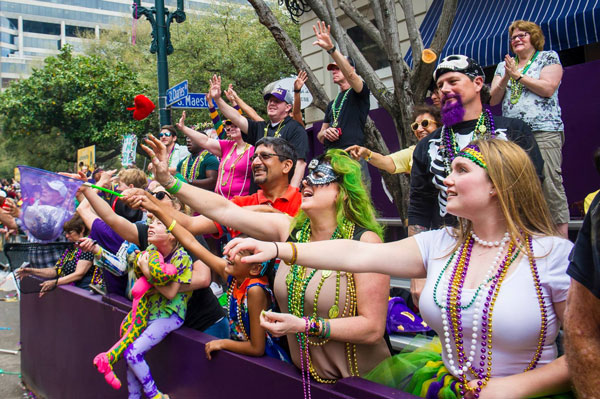 The fun, color, and pageantry of the 2024 Mardi Gras parades can best be enjoyed in beautiful grand stand seating right on the parade route. See all the floats, marching clubs, bands, dance groups, and maskers right in front of you from the comfort and ease of reserved New Orleans parade bleacher seating. This elevated seating brings you the best view of Mardi Gras parades.
Bring a bag to store all the beads, trinkets, coconuts, and doubloons you'll catch right off the floats, as the New Orleans parades roll just a few feet in front of you. No better way to enjoy a Mardi Gras parade than in the comfort and convenience of our elevated stands located directly on St. Charles Avenue!
The parade stands offer you immediate access to portable restrooms and there are plenty of delicious, local food and beverage options nearby. Book Mardi Gras parade tickets for your family today!
Watch all the Mardi Gras parades from a secure and safe location up close. Get a front-row view for all of the New Orleans revelry Mardi Gras brings to the city! Don't miss out on the Mardi Gras 2024 parades. To get started, choose a Mardi Gras parade or a grandstand zone to purchase tickets.
Purchase your parade tickets soon; this special Mardi Gras parade seating is limited availability!